这篇文章目前正在建设中. 某些信息或许不准确.欢迎进行修改.
Template:RA
Not to be confused with Battlefield 1942, the first game in the series.
Battlefield 1
开发商
出版商
引擎
发行平台

October 18, 2016 (Pre-Order)
October 21, 2016

游戏种类

First Person Shooter

评级

Rating Pending

平台
"感受全面战争的黎明(Experience the Dawn of All-Out War)"
— 宣传词
战地风云1
(也称
战地1
)是由DICE开发,EA发行的即将到来的第十五部战地风云。该游戏设置于第一次世界大战期间。它是第一个用于本时代的游戏机,并将于2016年10月21日在全世界范围内发布。
Overview
While many elements from past installments return, Battlefield 1 presents vehicles in a much more prominent role than commonly seen in WWI settings, featuring first-generation tanks, bi- and triplanes, and airships. Unarmored cavalry—soldiers on horseback—will also make a first appearance. Due to the prevalence of trench warfare during World War I, melee combat will have an increased focus from past installments. Chemical weapons like Mustard Gas, which were used extensively during World War I, will also be present and can be combated via a vision-obscuring Gas Mask.
Singleplayer
Overview
The singplayer campaign of Battlefield 1 will revolve around different people in different aspects of the Great War in campaigns such as the Italian Alps and the deserts of Arabia. Unlike past installments, the story will offer a much larger sandbox to allow players more choice and variety in how they approach different situations.[1] Characters will include a member of the Harlem Hellfighters, and a Bedouin "warrior woman."[2]
Multiplayer
Classes
Battlefield 1 features a class system similar to that of Battlefield 1942. Vehicle specific classes are also available, confining players to that role until death. The role of Engineer has largely been removed, with many aspects being transferred to the Assault kit.
Assault - The kit is equipped with anti-vehicle weaponry designed to destroy enemy armor and break defensive line.
Medic - Similar to early installments, the role of Medic has been separated from the Assault kit, with its focus being to heal and revive teammates.
Support - Retains a similar role to recent installments, being armed with light machine guns and the ability to resupply teammates with ammunition.
Tanker - Introduced with Battlefield 1, players will spawn as a Tanker upon spawning into any type of tank from the spawn screen. Filling the Engineer's role from previous games, the Tanker is the only kit equipped with a Repair Tool, which is now a hammer. The loadout of the kit can be customized, but changes depending on whether or not the player spawns into a light, medium, or heavy tank. Tankers can also passively repair their vehicles, replacing the regenerating vehicle health introduced in Battlefield 3.
Pilot - Like the Tanker, players will spawn as a Pilot when spawning into any kind of plane, and the kit can be customized as well.
Maps and Gamemodes
Battlefield 1 will feature maps numerous maps from across the theater of the First World War. Many gamemodes featured in previous installments will return along with the introduction of new gamemodes centered on the new mechanics of the game. Destruction has been overhauled once again, returning to the level of destruction present in the Bad Company games with the graphical fidelity of the Frostbite 3 engine. Maps also now feature dynamic weather systems, affecting combat in various ways; for example, The St. Quentin Scar can either start as a clear, sunny day, a dark, foggy day, or in the middle of a rainstorm, and switch between them during the round.
Conquest and Domination return from Battlefield 4, but now have a point cap instead of a ticket count for both teams, similar to the Assault gamemode from Battlefield Play4Free. The new Operations gamemode is also introduced, playing similar to Evolution from Battlefield Vietnam. Operations takes players across an entire front of the Great War in a sequence of connected rounds, with one team attempting to push the frontline forward by conquering ground while the other attempts to defend their position. The next map played depends on the outcome of the previous one, and the attacking and defending sides will switch accordingly.
Template:Maps/BF1 Template:Gamemodes
Weapons and Gadgets
The game will feature dozens of historically accurate weapons and gadgets, each having had some record of being used during the first World War, whether they were prevalent or not.
Template:Weapons/BF1 Template:Gadgets/BF1
Vehicles
Similar to weapons and gadgets, the game will feature dozens of historically accurate weapons that had some record of being used during World War I. Since many military vehicles were still relatively new concepts on the Battlefield at the time, combat will be a bit slower from modern installments in the series. Bi- and triplanes replace modern aircraft, with numerous able to engage on another during matches. Horses are also introduced, allowing for a fast means of transportation while allowing the player to fire a sidearm when riding. Instead of being instantaneous like previous games, there are now animations that show the player entering a vehicle.
Destruction plays a role in the handling of each vehicle as it will affect how each performs in combat - vehicles like tanks can now also be target damaged, with individual parts taking their own amounts of damage. For example, players are now able to immobilize a tank by targeting and destroying its treads.
Behemoths are also introduced, huge map specific vehicles that will spawn for the losing team in larger gamemodes as their last ditch offensive. Behemoths provide massive increases in firepower and a mobile spawn point for the team, but are much larger targets and can be destroyed after heavy fire. Behemoths include the Airship and the Armored Train.
Factions
Battlefield 1 features the main combatants of the Great War as available factions such as the United States, German Empire, and British Empire.
Notable Features
Development
According to lead designer Daniel Berlin, the idea of a Battlefield game set within WWI was one that DICE had toyed with for a long time.[2]
The game was confirmed on October 28, 2014 by EA CEO Andrew Wilson, following claims from analysts that a new Battlefield game would release in 2016 due to the release of Battlefield Hardline in early 2015 as well as the release of the new Star Wars: Battlefront in late 2015. The game was confirmed by EA CFO Blake Jorgensen during the 2014 UBS Global Technology Conference to be military focused. He said he has already seen the game and it is shaping up to be a "fun, new Battlefield".[3]
The title's 2016 release was reaffirmed during an EA investor call in July 2015, as the company plans for the game to be their core shooter title for 2016.[4]
Following the release of Star Wars Battlefront, DICE announced in December 2015 that the core team had moved on to the development of the next Battlefield.[5]
The official reveal for the game took place on May 6, 2016.[6] In preparation for the game's May 6 reveal, DICE and Visceral began a promotion called Road To Battlefield, offering free expansions to players of Battlefield 4 and Battlefield Hardline, the two previous titles in the franchise.[7]
In North America, the PC version will only be available through digital download.[8]
Gallery
Marketing
Standard Editions
Special Editions
Early Enlister Deluxe Edition
Battlefield 1
Three days early access on October 18, 2016
5 Battlepacks
Collectors Edition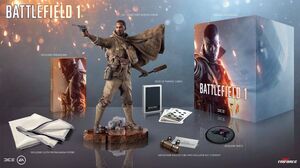 Battlefield 1
14" statue of Hell Fighter soldier on game cover
Steelbook Case
Cloth Poster
A Patch
French Playing Cards Deck
Messenger pigeon tube containing all DLC listed in the Deluxe Edition
Three days early access on October 18, 2016
Exclusive vehicle skins
Gallery
Concept Art
Videos
References
您使用了广告屏蔽软件!
Wikia通过广告运营为用户提供免费的服务。我们对用户通过嵌入广告屏蔽软件访问网站进行了使用调整。

如果您使用了广告屏蔽软件,将无法使用我们的服务。请您移除广告屏蔽软件,以确保页面正常加载。